Five days ago, I wrote an article noting that Malibu Media copyrights were no longer being filed.  I noted that from 2012-2015, Colette and Brigham Field, owners of X-Art (Malibu Media, LLC) filed over 100+ copyrights each month, and that to date they have filed over 6,000 copyright infringement lawsuits in federal courts across the US.  Because the number of copyright filings dropped off in 2016 (and now in 2017, there were ZERO copyright filings to date) I mistakenly assumed that Malibu Media was no longer filming adult videos.
This morning, I read an article by Breitbart author Warner Todd Huston that not only is X-Art still filming their adult film videos, but that they did so from NBA star Chris Bosh's 10,755-square-foot mansion in Pacific Palisades, California.  Pictures of Bosh's 1.5 acre estate [now the backdrop of future X-art.com films] can be found here.
NOTE: BEFORE READING THIS ARTICLE: If you have not already done so, and you are implicated as a John Doe in a Malibu Media, LLC lawsuit, read these first:

1) "Everything You Need To Know in One Page About Your Malibu Media, LLC (X-Art) Lawsuit [FAQ]"
2) "In-Depth Malibu Media. Their Lawsuits, Their Strategies, and Their Settlements"
FOR IMMEDIATE CONTACT AN ATTORNEY: To set up a free consultation to speak to an attorney about your Malibu Media, LLC lawsuit, click here. Lastly, please feel free to e-mail me at info [at] cashmanlawfirm.com, or call 713-364-3476 to speak to me now about your case (I do prefer you read the articles first), or to get your questions answered.
Malibu Media still filming X-Art adult film videos, but are filing NO COPYRIGHTS.
The fact that valid Malibu Media copyrights exist has been the tactical keystone to justify the thousands of copyright infringement lawsuits they have filed over the years. To date, Malibu Media holds 731 copyrights, each of which have been used or asserted against those who have downloaded their films using bittorrent.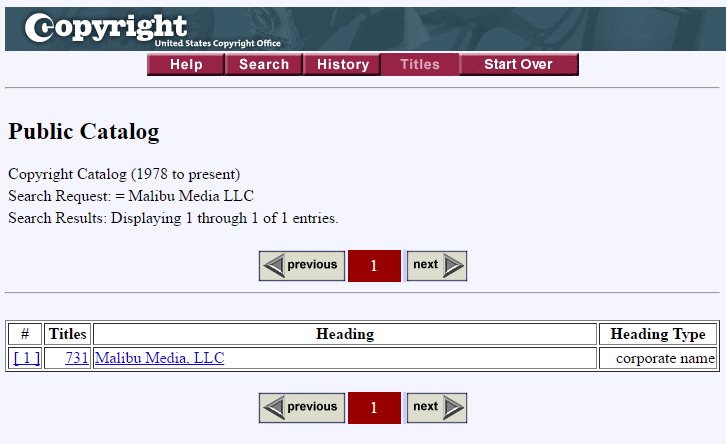 Malibu Media copyrights, just like every other action taken by Colette and Brigham Field are filed are maneuvers to maximize the profitability of their X-Art adult films (even to the point of complaining that the Bosh house was full of toxic mold and rat droppings in order to recoup a $92,000 security deposit):
…the mansion was unsafe and filled with toxic mold, roof leaks, rat droppings, plumbing problems, and slow internet connections. The couple is suing to get their $92,000 security deposit back.
What I do not understand is why they are not filing copyrights for these new films. There must be a REASON — a tactical reason — whether it is to scheme, scam, or extort money from some family or some internet user who has stumbled upon their films. Why to date are there ZERO copyright filings for their new movies?
Malibu Media Copyrights To Date (Filed 2009 – YTD 2017)
Here is a tally of the number of copyrights filed by Malibu Media to date:
In 2009, Malibu Media, LLC filed for only 2 copyrights.
In 2010, 15 copyrights.
In 2011, 61 copyrights.
In 2012 (when they first started suing), 129 copyrights.
In 2013, 177 copyrights.
In 2014, 189 copyrights.
In 2015, 112 copyrights.
In 2016, 46 copyrights.
In 2017, ZERO copyrights filed.
What else can you tell me about the Malibu Media cases?
[2017 UPDATE:] The best way to learn about Malibu Media, LLC is to read what happened to them as it happened. The list of stories below (in the order I listed them) tell the Malibu Media story in a way that you will understand them.